Iwata is perhaps the best known and most reputable brand of airbrushes available in the world, and you would be hard pressed to find a more capable and higher quality range of airbrushes from any other airbrush manufacturer.
Iwata, a company started in 1926 who originally made airbrushes in Japan, has devoted themselves to developing the highest performing airbrushes and compressors possible, and back up their tools with industry-best service and technical support.
This approach by Iwata has proven itself out with many in the creative industries using Iwata airbrushes and compressors as their first choice for airbrushing tools, and this is very true of modelers the world over.
Why Are Iwata Airbrushes Good
With decades of experience Iwata brings true Japanese precision and engineering to their equipment, and back up their airbrushes with an unprecedented five year warranty.
When a company gives a warranty of that length of time you know you have a very well made quality item.
I've found this to be true with my own Iwata airbrush which I've owned for many years now, in fact it's at least a decade past the warranty time period and it's still going strong!
Let's take a closer look at the Iwata airbrush I've been using for close to two decades which still gives outstanding results…
Demonstration And Review Of An Iwata Revolution HP-CR Airbrush
The Iwata Revolution HP-CR airbrush is what's called a dual (or double) action, gravity feed, internal mix airbrush with a 0.5m nozzle, and is ideal for general use with a wide range of benefits.
It has a truly flawless finish yet could still be considered an entry level airbrush, and there's no doubt it's one of the most popular airbrushes sold worldwide.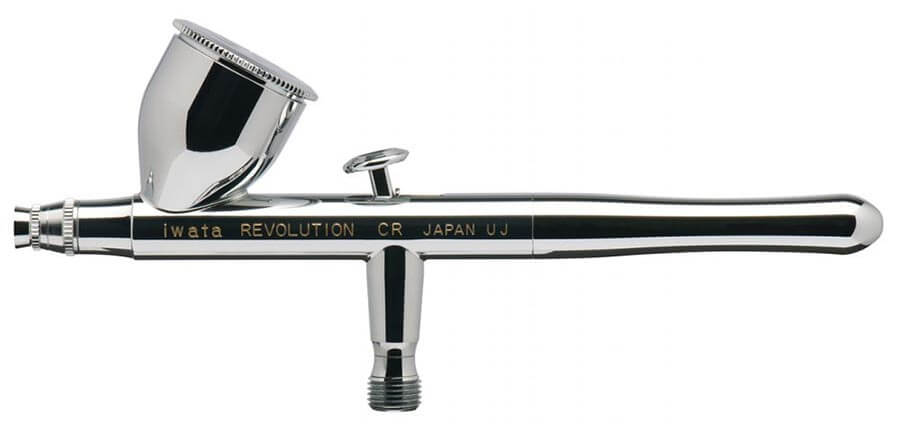 Let's quickly break down the features of this airbrush first to give us a better understanding of why it's a great unit, and then we'll dive into the results it can give…
Iwata Revolution CR Airbrush Features
These are the relevant specs of the Revolution CR airbrush that can impact the quality of your paint work:
Dual (double) Action Trigger: the dual action trigger allows you to manipulate both the volume of air and paint that's spraying out of the airbrush, giving you much more finesse of control. This is contrasted against a single action airbrush whereby you hit the trigger and get whatever air and paint the airbrush is designed to deliver whether you want that specific amount or not;
Gravity Feed Cup: the gravity feed cup, my personal preference, is mounted on top of the airbrush and will typically allow for airbrushing at lower pressures, which then allows for finer detail work and safer spraying of tiny model parts. 👍 For a full article on the benefits and drawbacks of gravity feed vs siphon feed (i.e. paint bottle hanging underneath the airbrush) see this article on airbrush feed type comparisons;
0.5mm Nozzle/Needle: this is a fairly 'general use' needle size and in combination with the engineering of this airbrush it has a wide range of applicable uses. From applying paint over a wide area (such as a larger scale model car body) down to reasonably good detail work, it is an excellent airbrush for all-around use. 👍 For more information on the pro's and cons of different needle and nozzle sizes, check out my detailed write-ups in this airbrush needle article, and also this airbrush nozzle article.
Perhaps the majority of Iwata airbrushes are the dual action, gravity feed type, although a handful of siphon feed type airbrushes are also sold.
They are, of course, also made to the same high quality, however the nature of the different design may make one more beneficial to you than the other.
👍 While there are certainly heated debates about it, the general consensus however is that gravity feed is likely favoured over siphon feed, and for more details on the pros and cons of each airbrush feed type check out my article here.
OK, it's time to take a look at what this particular Iwata airbrush allows you to accomplish with your modeling work (or any airbrushing for that matter)…
Iwata Revolution CR Usability
Weight and Trigger
The weight of the airbrush is a touch over 100 grams, so about the equivalent of two average sized chocolate bars which makes it very easy to use for prolonged periods without discomfort.
The trigger assembly is smooth and easy to press and, again, won't cause discomfort with extended use.
If you fully disassemble the airbrush including the trigger assembly you'll have to have to dexterity to your fingers to get the trigger back in place, but it's by no means a reason to not buy this particular airbrush.
Working With Different Paint Types
This particular airbrush ships with a larger 0.5mm nozzle and needle size which is a fairly common in airbrushes and is a good all-rounder for general use.
And this all-round use extends to the types of paints you can use as well.
Due to the larger nozzle and needle sizes of 0.5mm you can use model paint (or any paint for that matter) that is not specifically designed for airbrushing, without running into clogging problems.
For example, Tamiya paints are some of the most popular paints on the planet, however the enamels, acrylics and TS lacquer paints (when decanted) are not specifically designed to be airbrushed.
However, regardless of the paint type, any of the three can be easily airbrushed in the larger sized Iwata airbrushes including the Revolution CR, and will work perfectly well with the smaller sized Iwata airbrushes with suitable thinning as well.
👍 For extensive details on how I perfectly thin my paints for use in my Iwata airbrush see this article.
The fact that you may use any of the different paint types, enamel, acrylic or lacquer, makes no difference at all to this particular airbrush.
Coverage And Detail Work
The 0.5mm nozzle and needle combination that ships with the Revolution CR is on the larger size however this is not at all limiting when it comes to building scale models.
And should you find that you really need the ability to do advanced super fine detail work you can always opt for another airbrush in the Iwata range, just as the cheaper NEO or more expensive Eclipse.
With regards to the Iwata airbrush 0.5mm nozzle however, it will easily paint large areas for you such as large scale aircraft or vehicle models.
When it comes to fine detail work it can also hold its own, and while it obviously won't be quite as capable as an Iwata airbrush with a small 0.2mm or 0.3mm nozzle, it will certainly do everything you need it to even when building tiny 1/144 scale aircraft kits, for example.
Cleaning
Cleaning this airbrush is a piece of cake, as it disassembles extremely quickly and easily to allow thorough cleaning between colour changes or at the end of an airbrushing session.
In the picture above you can see virtually the entire airbrush disassembled, however you do not need to go this far when cleaning to get a thorough clean ready for new paint.
In fact you only really need to remove the needle, which can be done in seconds, flush out the cup and nozzle, wipe the needle clean with a rag and thinners, and reinstall it… and you're done! 👊
Spare Parts Pricing And Availability
Spare parts are readily available for Iwata airbrushes given their popularity the world over.
For example, you can't get much more convenient that buying your spares on Amazon, and example being this replacement 0.5mm needle for the Iwata Revolution CR, and for reference you can see going needle price on Amazon here.
With some parts being very affordable it's actually a good idea to consider having at least a spare needle on hand given the tips can get damages rather easily, and even a ridiculously small amount of damage to the needle tip can cause a significant reduction in the quality of the spray patter.
Overall Price
Prices are always changing, so it would be remiss of me to quote you a price which will probably be different by next week 🙄, but suffice it to say this is very high quality yet almost entry level airbrush, however is perhaps a bit more expensive than the average entry level airbrush.
Typically you do get what you pay for with airbrushes though, and given my Iwata Revolution CR has been going strong for close to two decades now, paying a little more is very much well worth the investment as you'll have this airbrush for many years to come and will get outstanding spray quality and paintwork results from it.
✔ To check the current price of the Iwata Revolution CR model airbrush (and many other Iwata airbrushes) check out this Amazon link for all the details. 👍
Iwata Airbrushes' Ability To Make Your Models Look AWESOME
If you're about to take the leap and invest in your first airbrush then an Iwata, in this case specifically the Iwata Revolution CR, will hands down make your models look SO much more professional and stand-out.
If you're looking to upgrade then I'd recommend this particular model, the Revolution CR, if you're :
coming from a very cheap type of airbrush, or
coming from an airbrush with a smaller nozzle/needle size and want to expand your airbrushing capabilities with a larger size that lends itself better to large areas and possibly more glossy top coats given the larger amount of paint you can spray at any one time;
I've personally found this airbrush to be superior to the siphon feed Badger airbrush I used to own, and when I upgraded to the Iwata my model finishes jumped ahead in leaps and bounds.
So much so that a few years after upgrading I won my category in the Queensland Model Hobby Expo with the build you see below!
Discover why Iwata is such a good brand and exactly why Iwata airbrushes are outstanding, including a review of an Iwata Revolution CR.